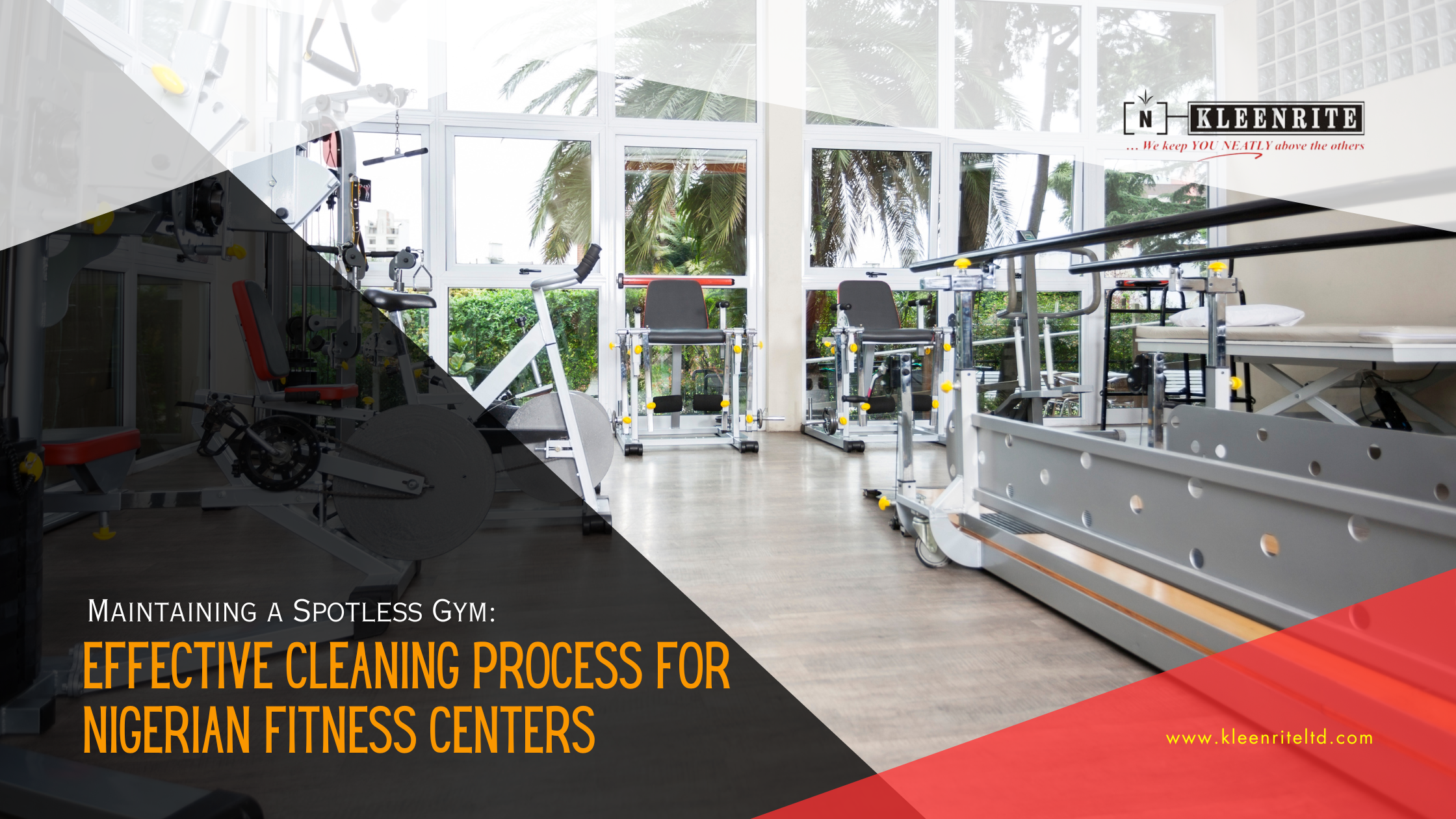 A clean and hygienic gym environment is crucial for the health and satisfaction of its members. In Nigeria, where fitness centers are gaining popularity, maintaining cleanliness is of utmost importance. This blog post will outline an effective cleaning process specifically tailored for gyms in Nigeria, ensuring a spotless and safe environment for gym-goers.
1. Establish a Cleaning Schedule
To maintain cleanliness in a gym, it is essential to establish a comprehensive cleaning schedule. This schedule should include daily, weekly, and monthly tasks to ensure all areas of the gym are regularly cleaned. Assign dedicated staff or a professional cleaning service to follow this schedule diligently.
2. Regularly Clean High-Traffic Areas
High-traffic areas in gyms, such as entrances, reception areas, and locker rooms, require frequent cleaning to prevent the spread of germs. Disinfect surfaces, including countertops, equipment, door handles, and handrails, multiple times a day using appropriate cleaning agents.
3. Ensure Adequate Ventilation
Proper ventilation is key to maintaining a fresh and clean gym environment. Good ventilation helps eliminate unpleasant odors and prevents the buildup of moisture, which can lead to the growth of bacteria and molds. Install and maintain proper ventilation systems throughout the gym premises.
4. Maintain Clean Restrooms and Changing Rooms
Restrooms and changing rooms are areas that require extra attention due to their potential for harboring bacteria and odors. Clean and disinfect these areas regularly, paying special attention to toilets, sinks, showers, and changing room benches. Restock toiletries and hand sanitizers regularly.
5. Clean Gym Equipment Properly
Regular cleaning of gym equipment is essential for both hygiene and the longevity of the equipment. Train staff to wipe down each piece of equipment after use and use appropriate cleaning agents. Make sure to clean the handles, seats, and any other frequently touched areas to prevent the spread of germs.
6. Floor and Surface Cleaning
Regularly sweep and mop the gym floors to remove dust, dirt, and sweat. Pay attention to corners and hard-to-reach areas where debris can accumulate. Use appropriate cleaning agents suitable for gym flooring. Additionally, wipe down mirrors, windows, and any other surfaces to maintain a clean and polished appearance.
7. Deep Cleaning and Maintenance
In addition to regular cleaning, schedule periodic deep cleaning sessions and maintenance for the gym. Deep cleaning includes tasks such as carpet cleaning, tile and grout cleaning, and equipment maintenance. This ensures a thorough cleaning of all areas and helps identify any potential issues with equipment.
Conclusion
Maintaining a clean gym is essential for the health and satisfaction of its members. By following an effective cleaning process tailored for Nigerian fitness centers, gym owners can provide a spotless and safe environment for their customers. A clean gym not only enhances the overall experience but also promotes a healthy and hygienic atmosphere that encourages members to achieve their fitness goals.